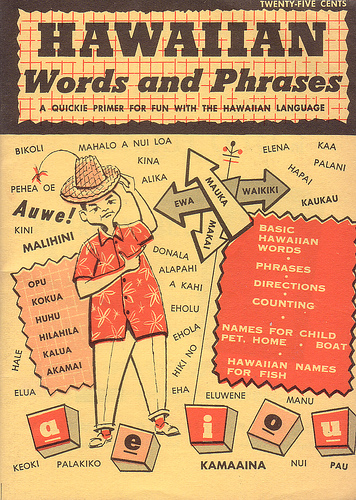 Whether you are planning to hire a guide to take you through the road-less Na Pali coast of Kauai or you are moving yourself down on bike to the Waimea Canyon, you must learn some local Hawaiian words before you set your feet on the Hawaiian soil.
Although, you will hardly find much people who frequently speak native Hawaiian language, but the mixture of native Hawaiian words with English will make it difficult for you to understand the whole sentence. So, you must consider learning some important Hawaiian words before going to Hawaii.
As the beaches are crowded with children, men, women and newly married couples, you will find very little people speaking the local Hawaiian words. The reason, being the fact that, most of the people visiting beaches are international visitors coming here for spending their vacations.
On the contrary, if you are looking for adventure activities like hiking, biking and camping at the Hawaiian Islands, getting some know-how of local Hawaiian words is considered mandatory. During such adventurous activities, you may encounter native Hawaiian people, for guiding you through your way, who know little about English. In such case, if you know some of their native language words, it would be easier for you to communicate with them.
Even on beaches, your ears will hear some Hawaiian language words like ALOHA; the word can be used to greet someone. It is also used for saying HELLO or GOODBYE. Other important words usually spoken during the conversion are KALA meaning money, KAUKAU meaning food. One thing that every visitor likes to have is a great meal, when he is hungry. In Hawaii, they will take you to LUAU and have you enjoy your feast.
HULA is the Hawaiian word used for special form of Hawaii dance. If someone calls you AKAMAI, then you should be happy because he is calling you intelligent. The word you will never love to hear for you, until you do something wrong is KOLOHE, which means rascal.
If someone has interests in birding, he can get numerous opportunities in Hawaii for it. No matter you have no interest in birds; one name that should be kept in mind is that of Hawaiian native endangered goose called NENE. Don't forget to watch the local Hawaii endangered specie NENE.
For a hiking adventure the word you must not forget is LUA. It is the word used for bathroom or toilet. Once you are in trouble and don't find any toilet and find a local, ask him for LUA and he will take you to the nearby toilet. Whenever you take help from the locals, do thank him by saying MAHALO.
Being on such adventurous trip to the islands having lava beds covered in most of the places, make sure you move forward with care if you see anything written PAHOEHOE .i.e. smooth lava is round about somewhere near you.
Aa: rough, crumbling lava.
Ae: yes.
Ahupuaa: land division usually extending from the mountains to the sea.
Akamai: smart, clever.
Akua: god, goddess, spirit, ghost, devil, image, idol, corpse; divine, supernatural, godly.
Ala: a road, path, or trail.
Alii: a Hawaiian chief, Hawaiian royalty.
Aloha: love, affection, kindness. Also means both greetings and farewell.
Aole: no.
Aumakua: family or personal gods, deified ancestors who might assume the shape of, for example, a shark, owl, dog, hawk, plant, or cloud.
Hale: a house.
Haole: white person. Formerly any foreigner.
Hapa: a part, sometimes a half.
Hauoli: to rejoice. Hauoli Makahiki Hou: Happy New Year.
Heiau: an ancient Hawaiian temple.
Hele: to go, come, walk.
Holo: to run.
Hookipa: hospitality.
Huhu: angry.
Hui: a group, club, or assembly.
Hula: the dance of Hawaii.
Imu: underground oven.
Ipo: sweetheart.
Ipu: the bottle gourd used as a receptacle, dance rattle and drum.
Iwi: bone.
Ka: the definite article.
Kahuna: a priest, doctor, or other trained person of old Hawaii, endowed with special professional skills that often included the gift of prophecy or other supernatural powers.
Kai: the sea, saltwater.
Kalo: the taro plant from whose root poi is made.
Kamaaina: literally, a child of the soil, it refers to people who were born in the Islands or have lived in Hawaii for a long time.
Kanaka: originally a man or humanity in general, it is now used to denote a male Hawaiian or part-Hawaiian.
Kane: a man, a husband.
Kapa: also called tapa, a cloth made of beaten bark.
Kapu: taboo, keep out, prohibited, sacred.
Kapuna: grandparent, ancestor, elder.
Keiki: a child.
Kokua: help.
Kuleana: responsibility, concern, property.
Lanai: a porch, balcony or deck.
Lani: heaven, the sky.
Lauhala: the leaf of the hala or pandanus tree, widely used in Hawaiian handcrafts.
Lei: a garland of flowers.
Lokahi: unity, agreement, harmony.
Luau: Hawaiian feast. In the past the word for feast was paina.
Mahalo: thank you. Mahalo nui loa: thank you very much.
Makai: toward the sea.
Malihini: a newcomer to the Islands.
Mana: the spiritual power that the Hawaiians believed to inhabit all things and creatures.
Mauka: toward the mountains.
Mauna: mountain.
Mele: chant, song, anthem. Merry Christmas: Mele Kalikimaka.
Menehune: a legendary race of little people who worked at night building fish ponds, roads and temples.
Moana: the ocean.
Muumuu: a loose gown or dress.
Nani: beautiful.
Nui: big.
Oli: a chant that was not danced to.
Ono: delicious
Pahoehoe: smooth lava.
Pahu: drum.
Pali: a cliff, precipice.
Paniolo: a Hawaiian cowboy.
Pau: finished, done.
Puka: a hole.
Pupu: hors d'oeuvres
Wahine: a female, a woman, a wife.
Wai: fresh water, as opposed to saltwater, which is kai.
Wikiwiki: to hurry, hurry up.