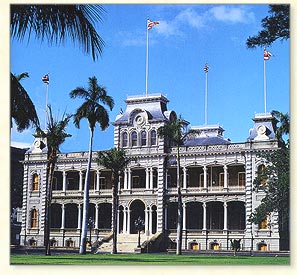 A Hawaiian national treasure and the only official state residence of royalty in the United States, `Iolani Palace was the official residence of the Hawaiian Kingdom's last two monarchs–King Kalakaua, who built the Palace in 1882, and his sister and successor, Queen Lili`uokalani. During the monarchy period, the Palace was the center of social and political activity in the Kingdom of Hawai`i.
Though its grandeur was neglected after the overthrow of the monarchy, restoration began in the 1970s through efforts of concerned individuals. Restoration and preservation continues, and, as a result, today's visitors to this National Historic Landmark in downtown Honolulu enjoy one of the most precise historic restorations and learn much about Hawaiian history and heritage.
Image Gallery of Iolani Palace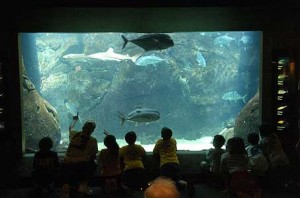 The Waikiki Aquarium, founded in 1904, is the third oldest public aquarium in the United States. A part of the University of Hawaii since 1919, the Aquarium is located next to a living reef on the Waikiki shoreline.
The exhibits, programs, and research focus on the aquatic life of Hawaii and the tropical Pacific. Over 2,500 organisms in our exhibits represent more than 420 species of aquatic animals and every year, roughly 350,000 people visit the Waikiki Aquarium.
The Waikiki Aquarium has been designated as the Coastal Ecosystem Learning Center for the Pacific Island Region of the Coastal America Partnership.