The Waikiki Aquarium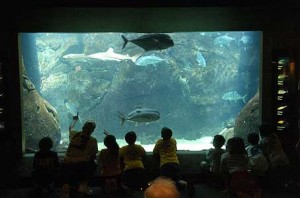 The Waikiki Aquarium, founded in 1904, is the third oldest public aquarium in the United States. A part of the University of Hawaii since 1919, the Aquarium is located next to a living reef on the Waikiki shoreline.
The exhibits, programs, and research focus on the aquatic life of Hawaii and the tropical Pacific. Over 2,500 organisms in our exhibits represent more than 420 species of aquatic animals and every year, roughly 350,000 people visit the Waikiki Aquarium.
The Waikiki Aquarium has been designated as the Coastal Ecosystem Learning Center for the Pacific Island Region of the Coastal America Partnership.